A leading Private Dental College & Hospital in Dhaka, Bangladesh
Update Dental College & Hospital (UpDC) is a modern, friendly and dynamic best Private Dental College and a Centre of excellence for Dental Education in Dhaka, Bangladesh. The college is approved by the Government of Bangladesh, Ministry of Health & Family Planning (MHFP) and is affiliated with the University of Dhaka. UpDC has sophisticated equipment's using the latest technology with International standards for meeting the requirements of the students and for Outpatient department services. The college commits to producing quality Dental professionals for the future generation with a sense of responsibility for the welfare of the society.
২০২২-২০২৩ শিক্ষাবর্ষে ডেন্টাল কলেজ ও মেডিকেল কলেজ ডেন্টাল ইউনিটসমূহে বিডিএস কোর্সে ভর্তি বিজ্ঞপ্তি:
অনুমোদিত ডেন্টাল কলেজ ও মেডিকেল কলেজ ডেন্টাল ইউনিটসমূহে ভর্তিচ্ছু দেশী শিক্ষার্থীদের টেলিটকের এর মাধ্যমে অনলাইনে (http://dgme.teletalk.com.bd/) আবেদন করতে হবে। ২০২২-২০২৩ শিক্ষাবর্ষে বিডিএস ভর্তি পরিক্ষায় কৃতকার্য প্রার্থীরা অনলাইনে আবেদন প্রক্রিয়ায় অংশগ্রহন করতে পারবেন। আবেদন ফি: ১০০০ (এক হাজার টাকা) প্রিপেইড টেলিটকের মাধ্যমে প্রদেয়।
বিবরন

তারিখ

অনলাইন আবেদন শুরুর তারিখ

২৬/০৭/২০২৩ ( দুপুর ১২.০০টা)

অনলাইন আবেদন এর শেষ তারিখ

০৫/০৮/২০২৩ ( রাত ১২.০০টা)

আবেদন ফি জমাদানের শেষ তারিখ

০৬/০৮/২০২৩ ( রাত ১২.০০টা)

 

প্রাথমিক নির্বাচনের এস এমএস প্রদানের তারিখ

০৯/০৮/২০২৩

  

প্রাথমিক নিশ্চায়নের শেষ তারিখঃ

১৪/০৮/২০২৩

দ্বিতীয় নির্বাচনের এস এমএস প্রদানের তারিখ

১৭/০৮/২০২৩

দ্বিতীয় নিশ্চায়নের শেষ তারিখ

২২/০৮/২০২৩

 

ওয়েব সাইটে তালিকা প্রকাশ

২৪/০৮/২০২৩

 

ভর্তি শুরুর তারিখ

২৬/০৮/২০২৩

 

ভর্তির শেষ তারিখ

৩১/০৮/২০২৩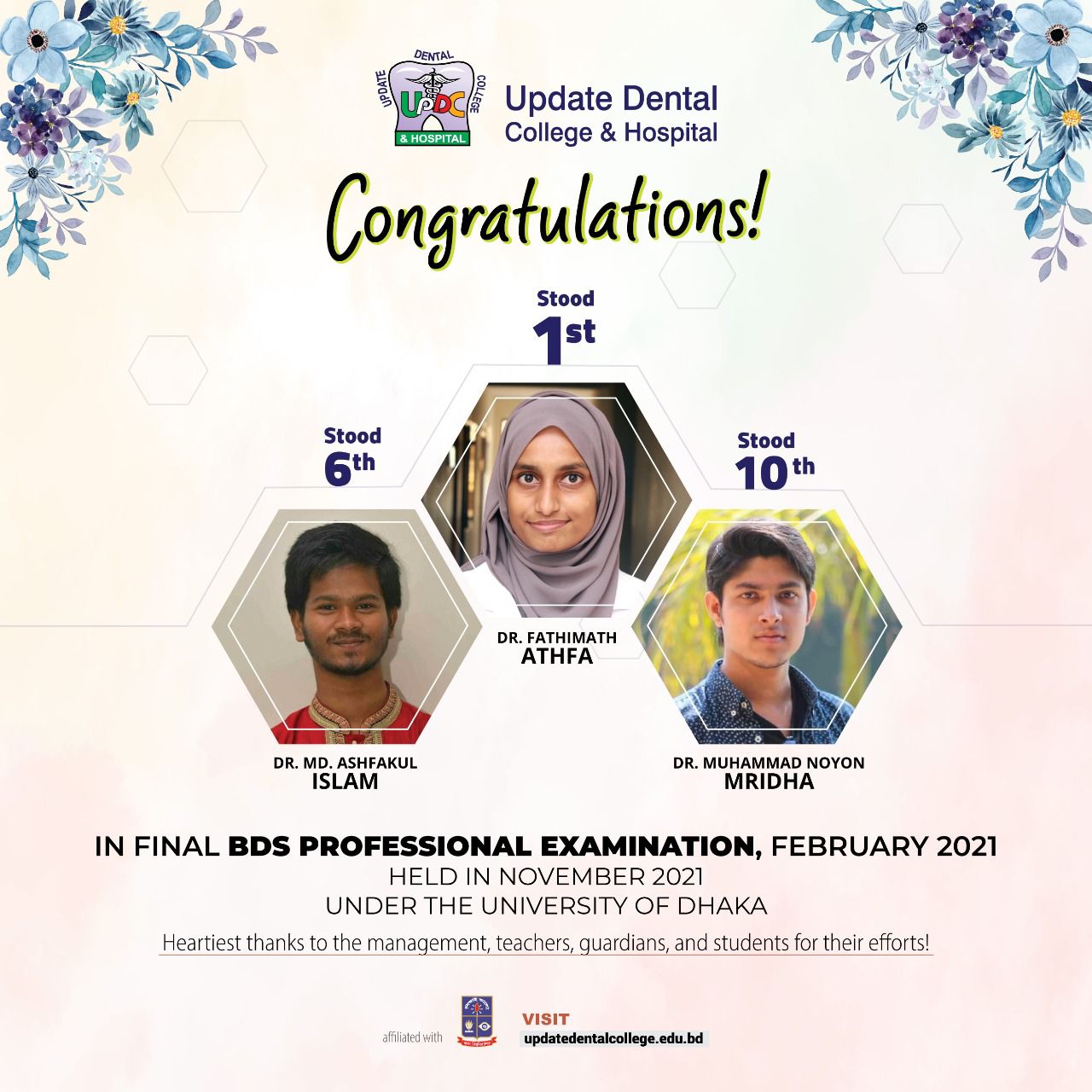 Dr. Fathimath Atfa, Dr. Md. Ashfakul Islam, and Dr. Muhammad Noyon Mridha
Congratulations on getting 1st, 6th, and 10th Place in In final BDS Professional Examination, February 2021 Held in November 2021 Under The University of Dhaka.  Heartiest thanks to the management, teachers, guardians, and students for their effort. 
another milestone for
Update Dental College
Memorandum of Understanding (MoU)
It's another milestone for Update Dental College (UpDC) by signing a Memorandum of Understanding (MoU) with India's prominent Dental Research Institute,
Sri Guru Ram Das Institute of Dental Sciences & Research Institute (SGRD)
in Amritsar, India. This program was held virtually on June 12, 2021, Saturday. 
H.E. Bishwadip Dey, Deputy High Commissioner, India in Bangladesh (High Commission of India, Dhaka), was present as Chief Guest.
Under this MoU there are lot of opportunities window will open such as:
Faculty Exchage: both institutions Faculties can work as Visiting Faculty

Research Collaboration

Technology Transfer for Manpower development

Student Exchange: our undergraduate students will visit SGRD and vice versa

Our Graduate Doctors can get the opportunity for Post Graduation in different specialties.
UpDC: A leading Private Dental College in Bangladesh
Preclinical
Simulation Lab
The Dental Simulation Lab is a laboratory that simulates the clinical environment for our dental students as they practice and learn pre-clinical courses. The experience of using the Dental Simulation lab will enhance the skills and performance of our students
Update Dental College library has collaboration with HINARI from WHO, and through this library has more access of paid journal for the research and publication study. 
More than 2500 books
HINARI Access from WHO
Internet access & wifi

with a multicultural array of students, both local and international, and distinguished faculties as well.
Update Dental College, which is administered by highly professional, skilled, and compassionate individuals.