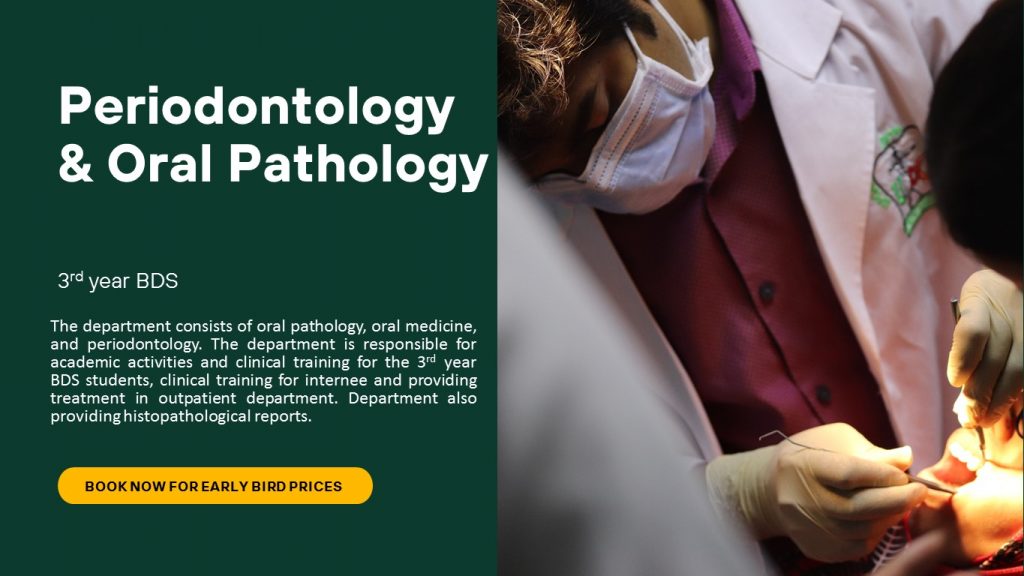 The department consists of oral pathology, oral medicine, and periodontology. The department is responsible for academic activities and clinical training for the 3rd year BDS students, clinical training for internee and providing treatment in outpatient department. Department also providing histopathological        reports.
BDS, DDS (BSMMU)
Associate Professor & Head
Dept. of Periodontology & Oral Pathology
Update Dental College & Hospital, 
University of Dhaka, Bangladesh.
E-mail:
Update Dental College Journal (UpDCJ)
Press & Publication Secretary
Bangladesh Periodontology Society (BPS)
Member, National Young Academy of Bangladesh
https://nyabangladesh.org/new-member-2020/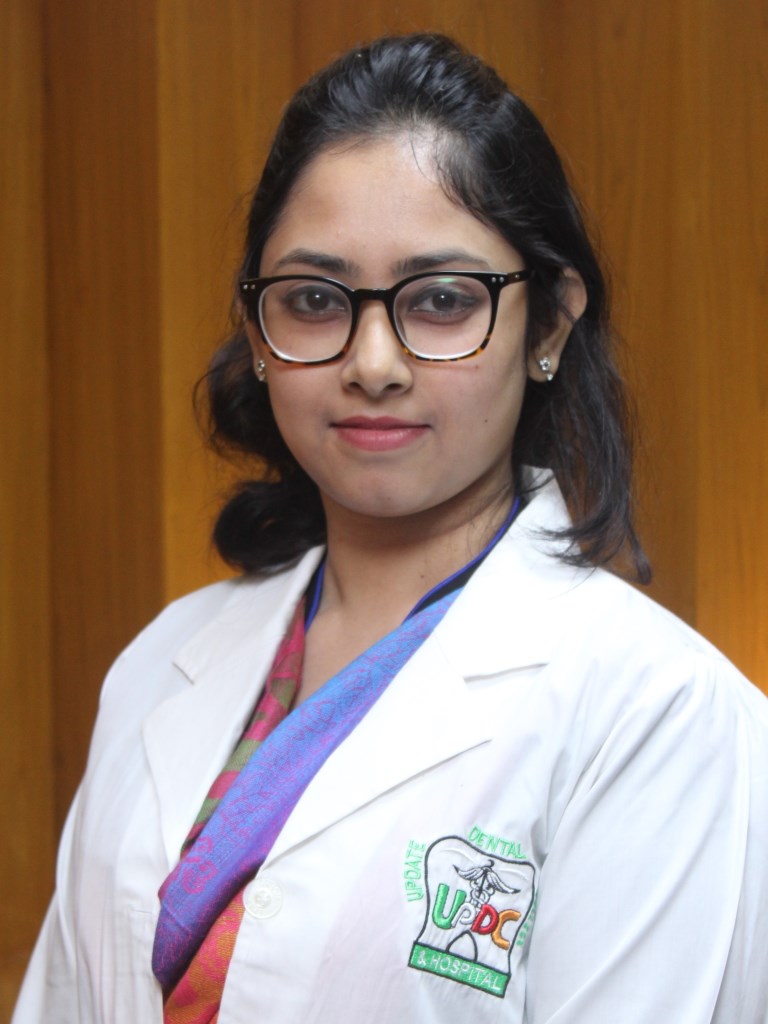 Dr. Nayna Binte Shahabuddin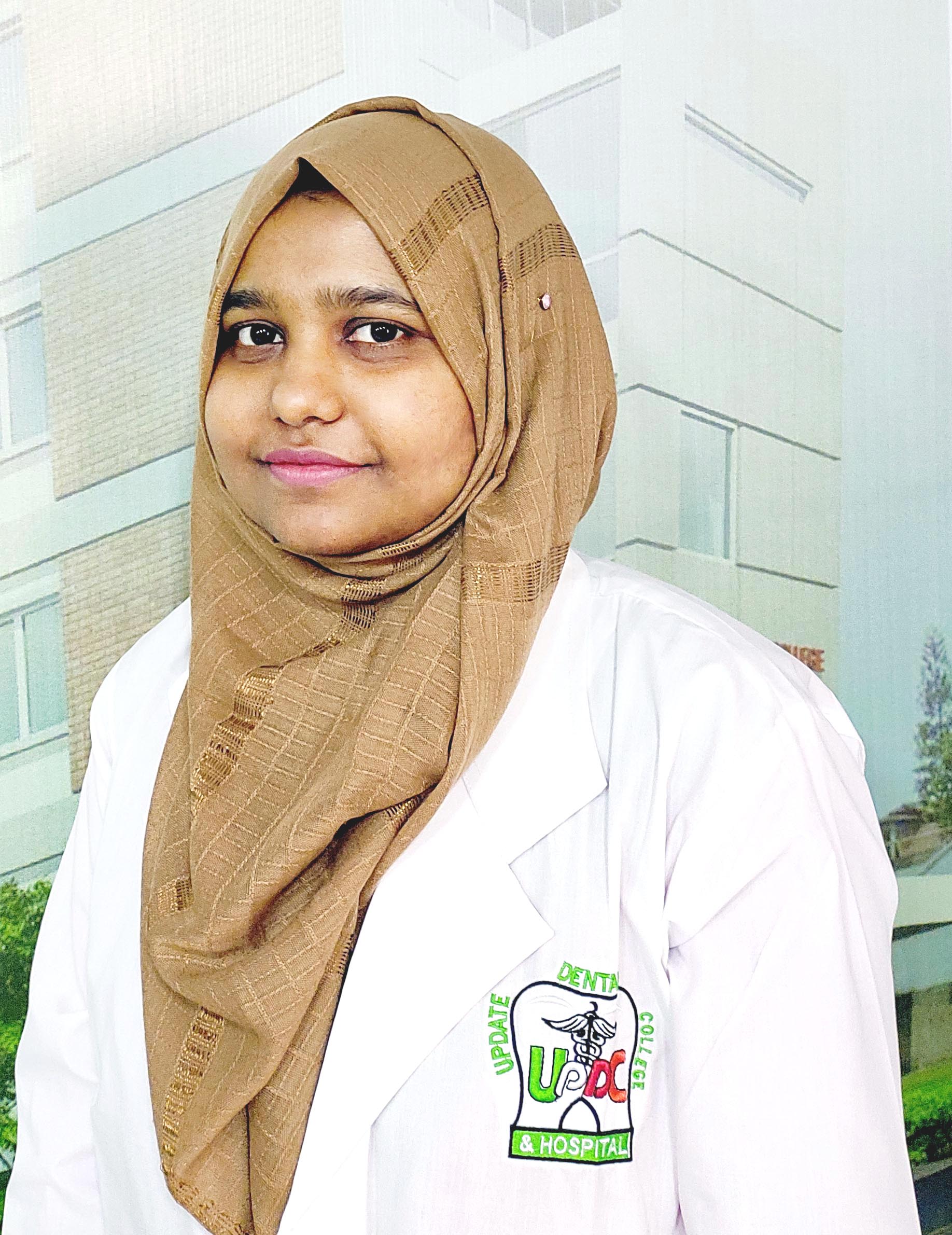 Lecturer and OPD consultant
Lecturer (In study leave)
Dr. Huzzatul Islam Khan, a former lecturer, an ex-student of update Dental College in the Department of Oral Pathology and Periodontology. He is now on study leave at the University of Saskatchewan, Canada for his post-graduation degree. Wish his a bright successful future…..
Ex-Lecturer (On study leave)

Academics: (Undergraduate students, 3rd year BDS)
Teaching by conducting lectures, tutorials, histopathology practical classes, items, card finals, ward finals and assessment exams/term finals.
Clinical training for the students.
Internee doctor training.
Providing treatment facilities in out patient's department (OPD).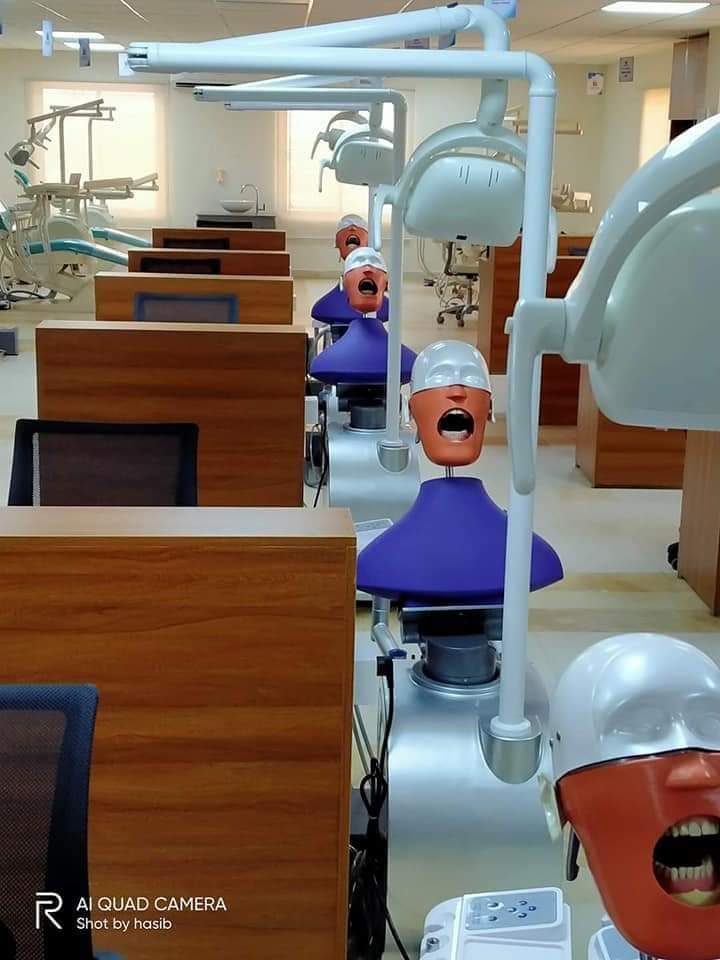 Clinical training on Simulation
Update Dental College has a simulation lab for clinical students for the first time in Bangladesh. Clinical students of 3rd phase and final phase are well trained before their clinical OPD placement . 
Department has well equipped facilities to train 3rd year students clinically with skilled resource manpower.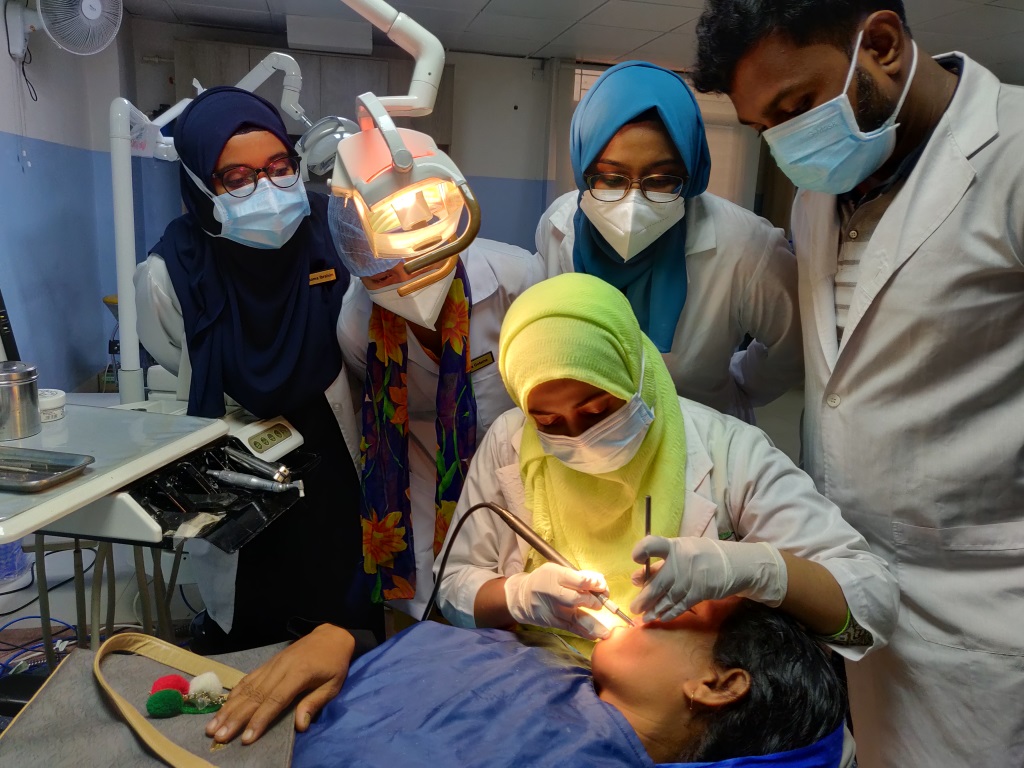 Department involved in research activity, Scientific seminar, Free Dental Camp, Cultural program,
Study tour etc.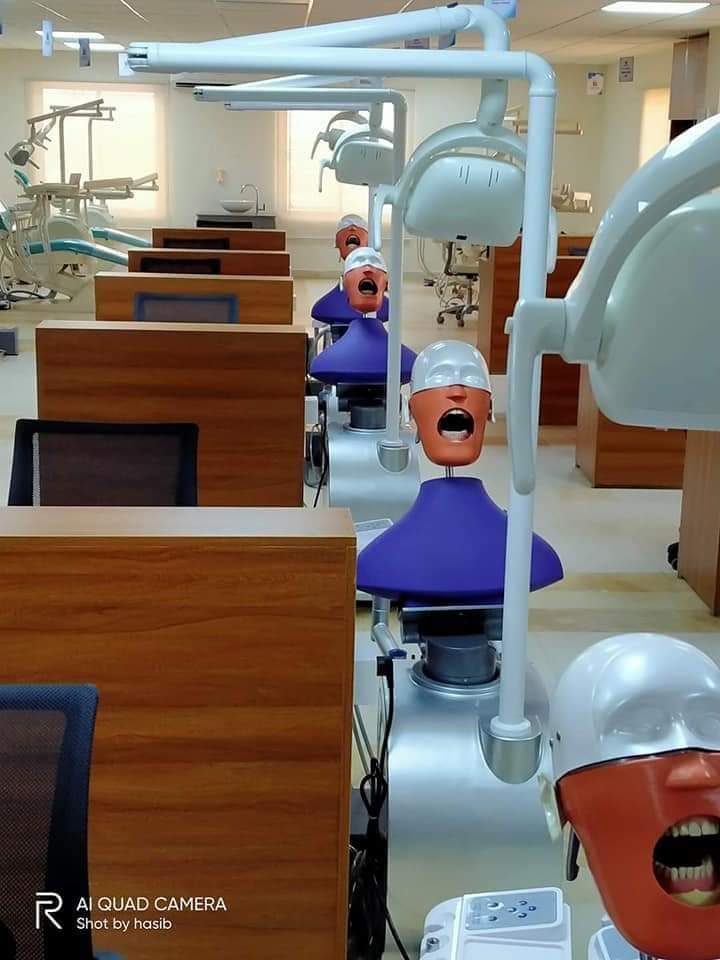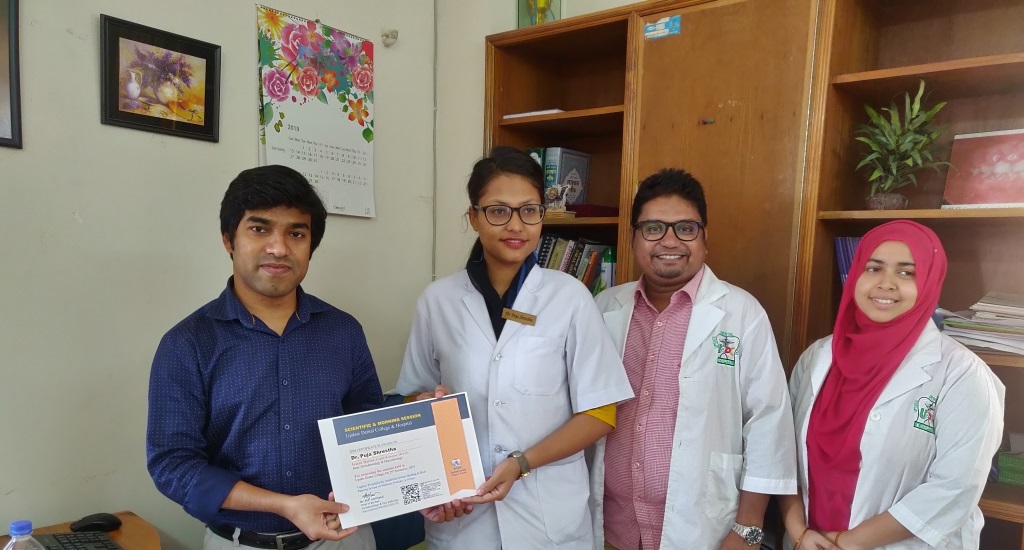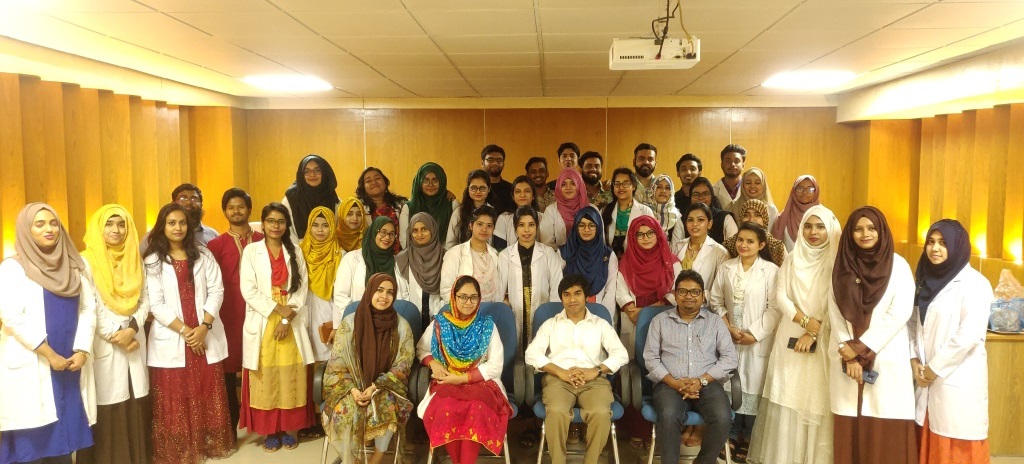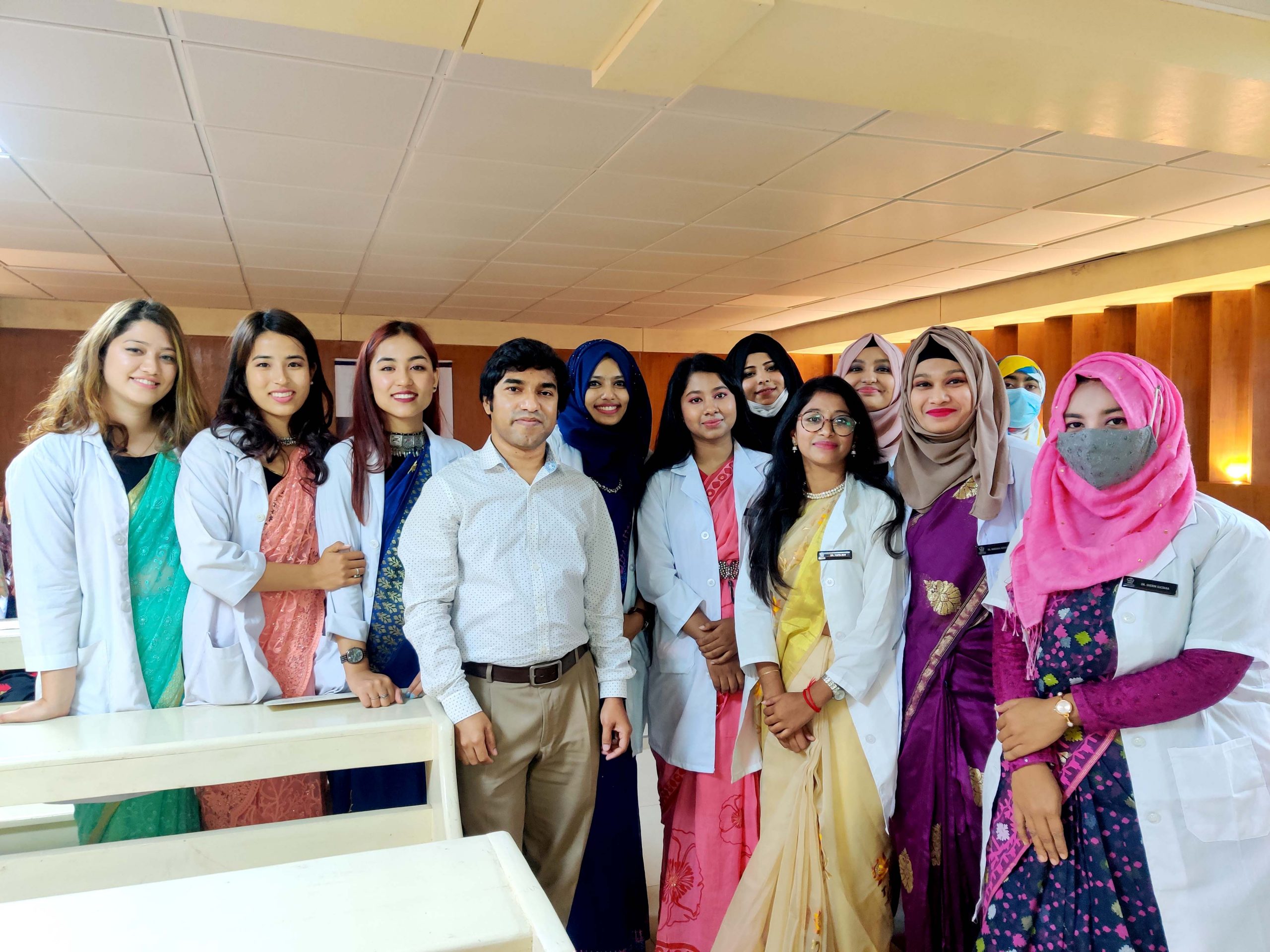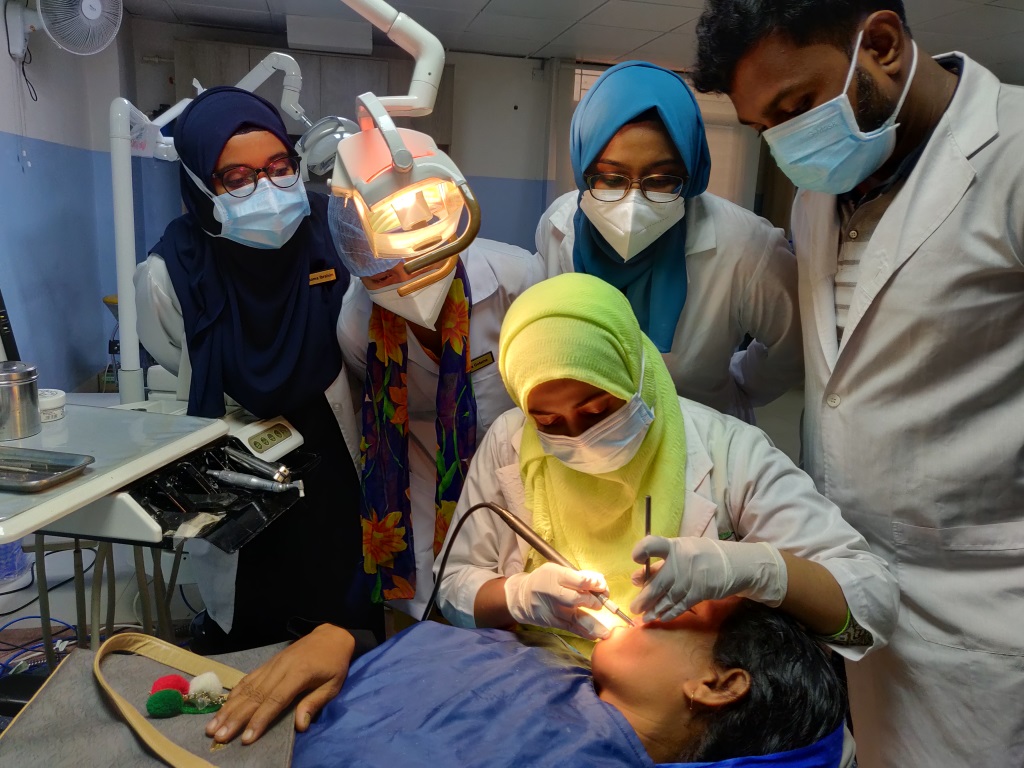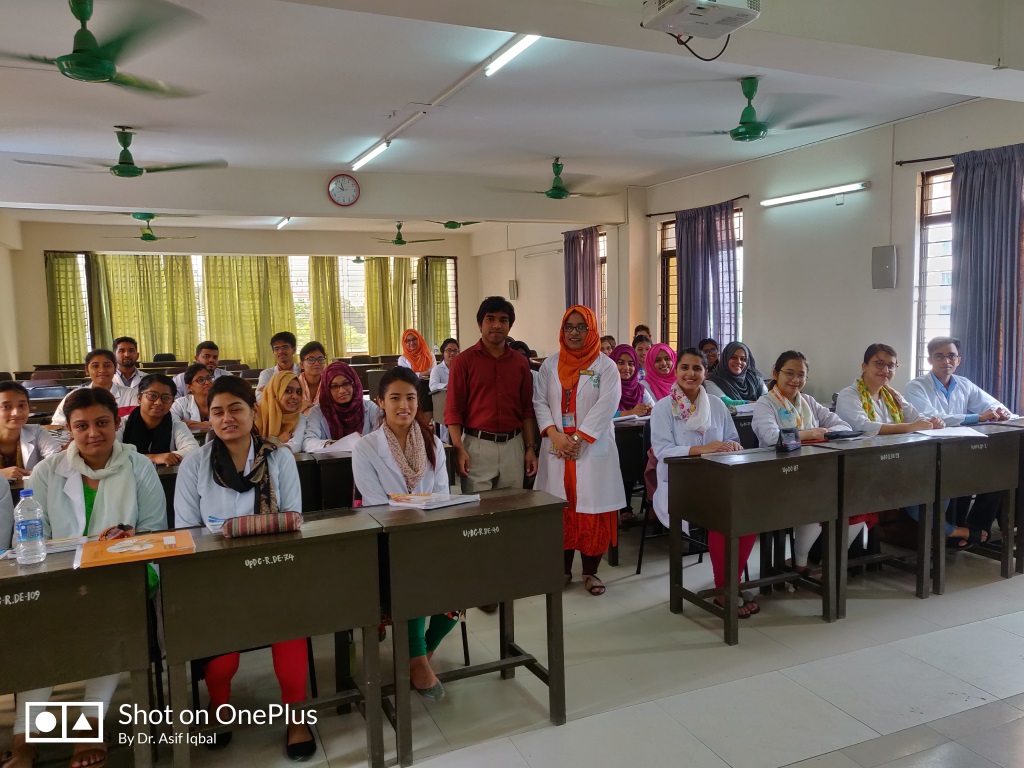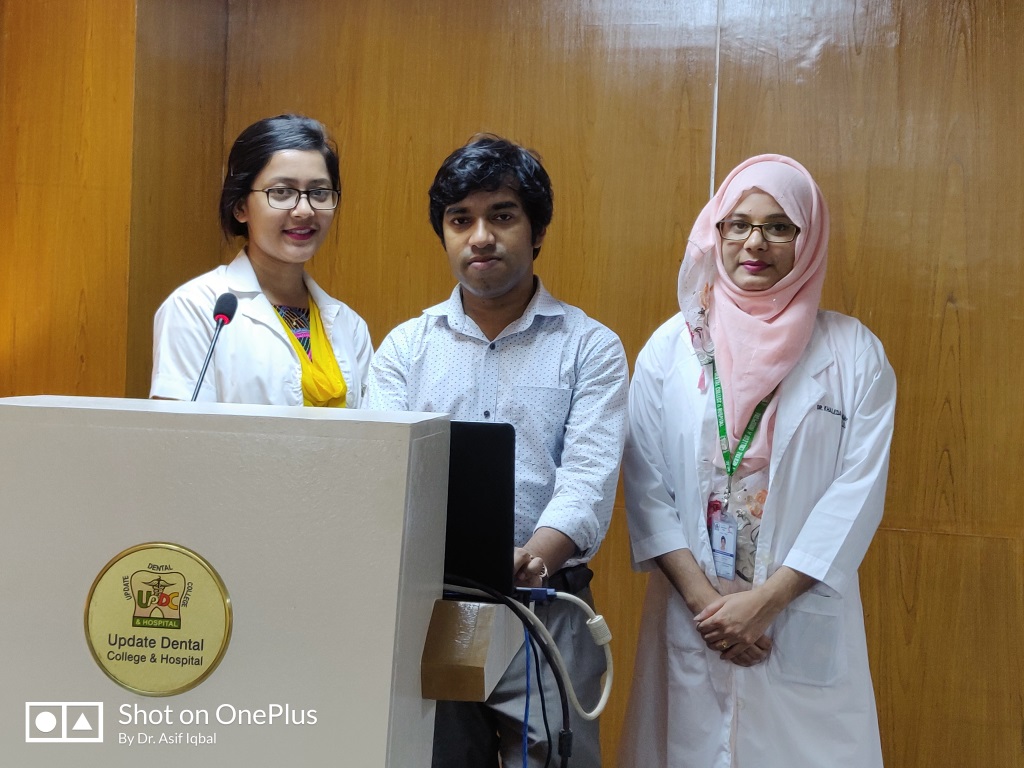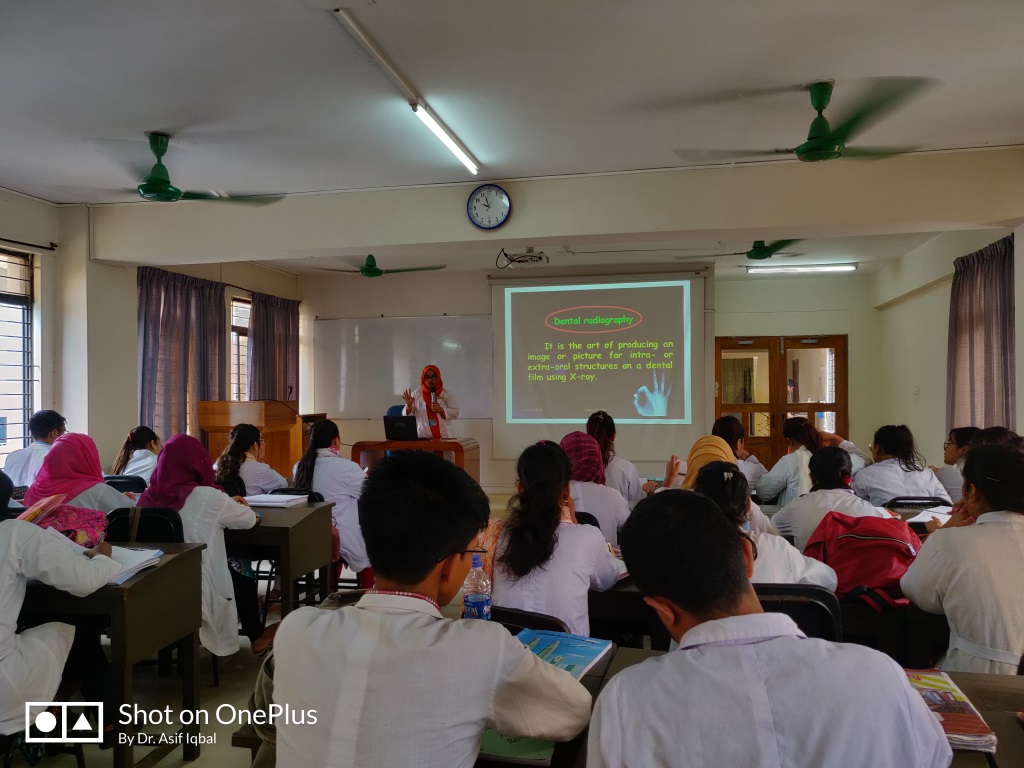 Karim, F., Sultana, A., Shiekh, H., Iqbal, M. A., Shrestha, P., Rahman, M. T., & Pia, T. T. (2020). Comparison of efficacy of Ledermix and Calcium hydroxide in the management of deep caries. Update Dental College Journal, 10(1), 6-12. https://doi.org/10.3329/updcj.v10i1.46685
Iqbal, M. A. (2020). Questionnaire to evaluate COVID-19 suspected patient before the dental procedure. Update Dental College Journal, 10(1), 1-2. https://doi.org/10.3329/updcj.v10i1.46683
Shrestha, P., Iqbal, M. A., Bristy, O., & Shrestha, N. (2020). Significant of Antibiotic prophylaxis for diabetic patients with periodontal disease, 1 hour before phase 1 periodontal therapy. Update Dental College Journal, 10(1), 28-30. https://doi.org/10.3329/updcj.v10i1.46690
Iqbal, M. A. (2019). ORCID Identification: Importance as an Author. Update Dental College Journal, 9(2), 1-2. https://doi.org/10.3329/updcj.v9i2.43730
Khan, M. H., Sadia, R., Ema, S., Shahabuddin, N., Rahman, R., & Iqbal, M. A. (2019). Relationship of age with periodontal diseases for males and females in Bangladesh; A hospital registry based cross-sectional observational study. Update Dental College Journal, 9(2), 13-16. https://doi.org/10.3329/updcj.v9i2.43733
Iqbal, M. A. (2019). Finding reviewer for editorial process: A challenge to resolve. Update Dental College Journal, 9(1), 1-2. https://doi.org/10.3329/updcj.v9i1.41198
Iqbal, M. A. (2018). Targeting relevant journals for publication a paper. Update Dental College Journal, 8(1), 1-4. https://doi.org/10.3329/updcj.v8i1.38404
Iqbal, M. A. (2018). A Brief Guideline on Writing Research paper. Update Dental College Journal, 7(2), 1-3. https://doi.org/10.3329/updcj.v7i2.36205
Khan, M. H., Eka, S., & Iqbal, M. A. (2018). Management of Chronic Gingivitis with localized periodontitis by Nonsurgical (Phase I) Periodontal Therapy- A Case Report. Update Dental College Journal, 7(2), 33-37. https://doi.org/10.3329/updcj.v7i2.36211
Iqbal, M. A., & Khan, M. H. (2017). Accessing Research Publications; A Brief Guideline on Literature Review. Update Dental College Journal, 7(1), 1-3. https://doi.org/10.3329/updcj.v7i1.33301
Iqbal, M. A., Quader, S., Mohol, J., & Gupta, S. P. (2016). Corticosteroid in various Oral lesions. Update Dental College Journal, 6(1), 52-58. https://doi.org/10.3329/updcj.v6i1.29221
Ahmed, S., Khan, M. A., Iqbal, M. A., Hossain, M., Ahmed, S., & Ahmed, S. (2016). Influence of Type 2 Diabetes mellitus on periodontal conditions in a population of Dhaka City. Update Dental College Journal, 6(1), 35-39. https://doi.org/10.3329/updcj.v6i1.29218
Iqbal, M. A., Mohol, J., Afrin, F., Khaleque, M. A., Johra, F., & Jannat, N. (2016). Prevalence of periodontal diseases among the patient visiting at Periodontology OPD Update Dental College Hospital, Dhaka. Update Dental College Journal, 5(2), 23-29. https://doi.org/10.3329/updcj.v5i2.27265
Khan, M. A., Rahman, M., Islam, K., Mohsina, N., Iqbal, M. A., & Jahan, M. S. (2015). A comparative study on tissue response under the ridgelap and modified ridgelap pontic. Update Dental College Journal, 5(1), 15-20. https://doi.org/10.3329/updcj.v5i1.25823
Iqbal, M. A., Mohol, J., Rahman, M. S., & Afrin, F. (2015). Pyogenic granuloma-a 19 months follow up case report. Update Dental College Journal, 5(1), 26-29. https://doi.org/10.3329/updcj.v5i1.25825
Chowdhurya, T., Rahmanb, D., Jannat, T., Hossaind, M. M., Sultanae, A., Iqbal, M. A., & Noorg, A. (2015). Radiographic position of mental foramen in selected urban population of Bangladesh. Update Dental College Journal, 5(1), 3-9. https://doi.org/10.3329/updcj.v5i1.25820
Accepted article: Ashif Iqbal , Jesmin Mohol, K M Asrafuzzaman Momin. Symptomatic geographic tongue in a child, Sri Lanka Journal of Child Health, 2020; 49: